I had been friends with Molly years before I had even met Eli, but when the three of us sat together during freshman orientation, it was like we had known each other our whole lives. It was comforting to know that no matter how complicated high school got, these two had my back. Molly and I were slightly closer than Eli was with the group, but that was because while the two of us were trying to figure out how not to be the most awkward person in the room, Eli was surrounded by girls dying to give him attention. None of them ever hung around too long, and whenever things ended, Eli came right back to us. He always had stories to share about his "crazy" ex and why it was a good thing he got out of there when he could.
We were quick to agree since it seemed ridiculous even to consider that Eli was the problem. By the end of freshman year, we had our days down to a system. One day Eli had his arm wrapped around the shoulders of someone completely absorbed into their world, and then a week or so later he was sitting next to us at lunch laughing at whatever joke Molly had made. That routine was quickly over by the summer.
For the first official day of summer, Eli, Molly, and I celebrated by sitting around a bonfire in my backyard. Eli had recently ended things with another girl, so he was still playing catch up with the events of our lives.
"So you think it would be too desperate if I text him again?" I was anxiously staring at my phone. "It's been about five minutes, but I'm not sure if that's enough time to double text someone." Molly and Eli stared back blankly, neither of them offering any advice.
"Come on Eli, don't you do this all the time?" Molly asked.
Eli shrugged, "It's not like I have it down to a science. I just talk normally I guess. Also, this isn't the first time Joslyn has talked to a guy before."
Click here to learn more about setting your digital boundaries.
"Yeah Molly, it looks like you're the only one who hasn't flirted around with anyone. We need to get you a boyfriend soon." Molly and I joked around like this often. She was used to dodging comments about boyfriends and hookups coming from her family. She laughed it off and rolled her eyes. 
"I could help you practice." Eli teased. Molly's cheeks took on a red hue as she avoided looking up from the ground.
"I'm sure you're already busy with someone else." She said.
"I would drop all of that in a second for you," Eli responded with a wide grin. I glanced between the two of them and attempted to see if there were any feelings.
"You should give it a try Molly, who knows, maybe you'll find true love." We all laughed.
The next time I saw Molly things had changed completely. She was glued to her phone most of the time eagerly awaiting any message that Eli might send her. I was thrown off by how fast everything had moved, from my perspective; it seemed like Molly would take a bit more convincing. But looking at her clutching her phone and rapidly typing, I knew I was wrong.
"So tell me again how you guys started talking? I thought we were just joking around." I was a bit shocked that Molly hadn't reached out sooner to fill me in on all the events since she was the first person I reported anything slightly exciting too.
"Well, after the bonfire nothing really happened for a couple of days. I didn't take any of what Eli said that night very seriously either, but when he reached out to me, I couldn't think of any reason not to start talking." Molly kept her gaze down.
"Have you ever had feelings for Eli in the past?" I asked.
Find help now. Click here for a list of 24/7 hotlines available to help.
"No, but it couldn't hurt to try. Besides, Eli is the one with all the experience, so I'm sure this isn't anything special to him." I could hear her phone constantly buzzing from where it sat next to her. A minute could not go by without the sound of text messages coming through.
I laughed, "It seems like he's pretty interested. You better watch out though, you don't want to become one of his 'crazy' exes."
"Who knows if anything will really come out of it?" Her eyes were glued to the phone.
When Molly left, I still couldn't shake the feeling of unease from hearing about her and Eli talking two weeks after it started. We shared everything up until this point, so what made this any different? It wasn't shocking to receive nothing but radio silence from Eli when he got into a relationship since it was his usual pattern. He likes someone, he's all over their social media accounts commenting, liking, and posting WCW pictures like they've been in love their entire lives until he decides that their emotional state is apparently too much for him.
I got a knot in my stomach thinking of the stories Eli might tell about Molly if things went wrong.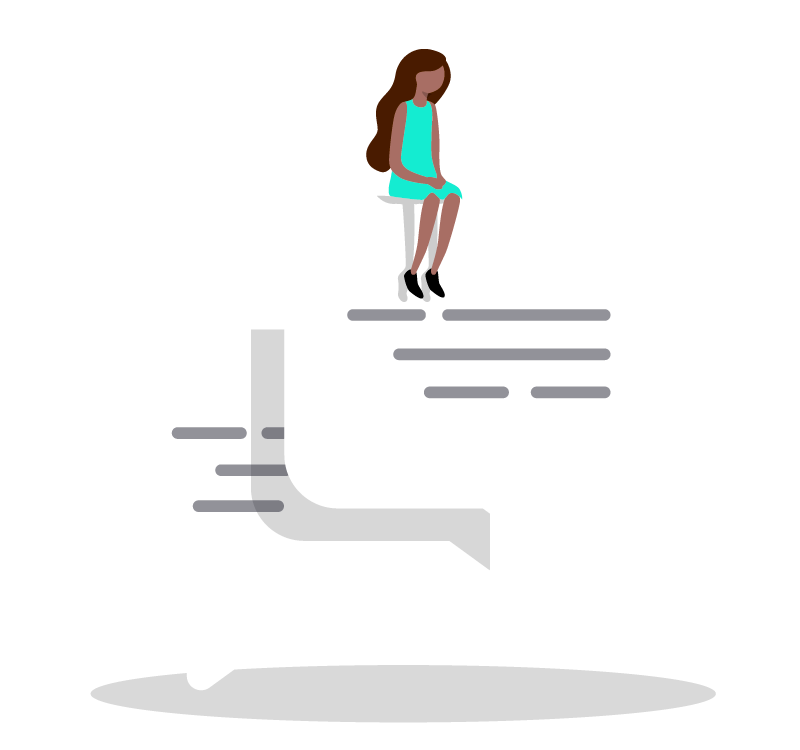 "The moment Eli and I started dating I knew we were different. We didn't have that slow build of awkward flirting while we got to know each other. Our relationship was intense and passionate from the start. Everything moved so quickly I hardly had a moment to catch my breath before the red flags began to appear. "
No one deserves physical, verbal or emotional abuse, ever!
If you feel like you're in danger, especially immediate danger, you have the right to call 911. There are also other sources for getting help and support 24/7.

Looking to connect with someone to talk about your situation? Find hotlines and services here.

Are you a teacher, parent, or other caring adult looking to help a teen in your life? Explore our list of resources and materials.

Safety and respect are important, even with online relationships. Learn more about connecting safely.

We all deserve relationships based on trust, honesty, and respect. Click here for information, tips, and resources.